Eco-design: creating in harmony with the planet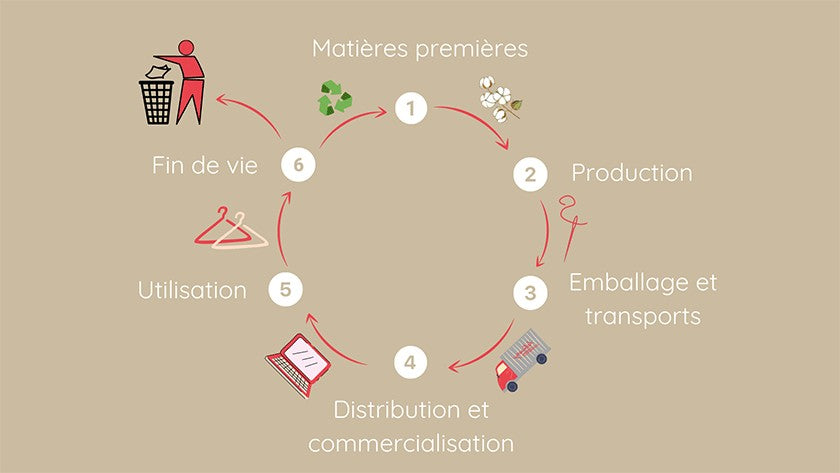 In the current fashion landscape, eco-design is positioned as an innovative and responsible approach , offering an opportunity to create in harmony with the planet. Eco-design goes far beyond simply creating aesthetically pleasing clothing; it is a process that takes into account the environmental , social and economic aspects of garment production . Here, we explain why we have opted for sustainable and ethical fashion.
Understanding Eco-design
Eco - design , also known as sustainable design , is based on the principle of creating products while minimizing their environmental impact . This means thinking about every step of the creative process, from material selection to manufacturing, distribution and product end of life.
The Key Principles of Eco-design
Choice of Materials : we opt for sustainable and environmentally friendly materials, such as organic cotton, SeaCell®, Tencel®, or even recycled fibers. We reject petroleum-based synthetic materials that contribute to plastic pollution. Our suppliers are Austrian, French, Spanish, Italian.
Our fabrics are labeled at least OEKO-TEX Standard 100 which means that they are healthy for the skin and our planet.


Quality and Durability : We design high-quality, well-designed and well-made garments to extend their life. Sustainability is an antidote to throwaway culture.


Manufacturing process : we choose production methods with low environmental impact, such as natural dyeing, the use of renewable energies and the reduction of waste.






Ethical Working Conditions : we ensure that the workers involved in the production of your garments enjoy fair and safe working conditions.


Ecological packaging : we minimize unnecessary packaging and opt for sustainable and recyclable packaging. We are studying the principle of deposits as an eco-responsible packaging solution for return.


Responsible transport : we look at our carbon footprint by choosing more sustainable transport options, and by manufacturing locally.






Distribution and marketing:

The distribution will be done mainly online so as not to experience the fittings in the back of the pharmacy (between brooms and boxes, for self-esteem, it's formidable!). After all, trying at home is always more enjoyable! We also operate in a presales system to avoid overproduction. Co-creation is an ideal option to buy clothes totally adapted to our bodies.


Use.

For this part, it's mostly up to you! But we would like to set up after-sales service in case of repair. Another idea: do not add extra buttons to limit waste, they will still be available on request (free of charge) What do you think? Do you have any other ideas to improve our impact and your experience? Otherwise, we recommend washing at 30 degrees with detergent balls, another gesture for our environment and therefore our health.


End of life. For this part, we had thought of a recycling system where you could send us your old bras for a gift voucher. But transport would increase our impact, and we have to find THE right recycling path (we're looking, we're looking!). What do you think ? Do you have an idea of ​​an ecological alternative for the end of life of our clothes?
We hope this article has enlightened you! We are always trying to improve so we look forward to reading your feedback.
---