How to adopt slow fashion?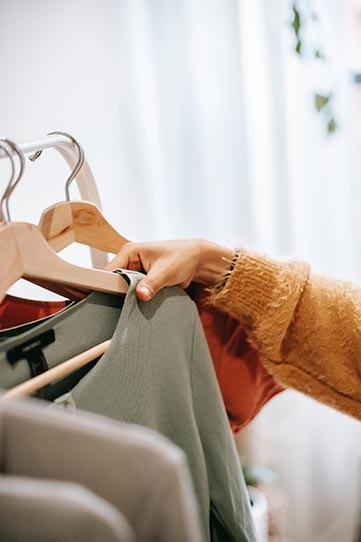 Today, we give you some tips to adopt this movement!
Think about your consumption
In this world where everything pushes us towards consumption, slow fashion allows us to avoid compulsive purchases. To make good decisions, it is important to assess his needs and what we can do without.
So, thanks to this movement, we take stock of our needs and buy pieces that are in line with our lifestyle : our dress code at work, the weather in our city, our clothing habits, etc.
Result: you waste less money and energy by sorting your dressing room every two months! Bye bye the extra lined down jacket when the temperatures do not exceed 12° in winter!
A method exists to help decide on a purchase. You know her ?
The method BISOU (which means KISS in french) :
- Do I have any Need ? (Besoin)
- If yes, do I need it Immediately?
- Do I already have something Similar ?
- How/by whom/where Object was it made?
- Will this product be for me Useful ?
Buy ethical and sustainable brands
So, brand transparency is essential. An ethical brand has nothing to hide. Without transparency, we cannot assess how much the brand pollutes, or how it treats its workers.
For this, the labels make it possible to carry out a control of the marks.
As I mentioned in a previous article, labels help us choose ethical and eco-responsible clothing. Here is a link to the article which lists several very interesting labels.
The type of production of the brands is important: pre-orders or made-to-measure are to be preferred on brands that make a large number of collections per year. When pre-ordering, the customer orders the garment before it is made. This allows you to order the exact number of products, and avoids waste!
A few questions to ask yourself before buying:
- Is this product labeled?
- Is the brand transparent about its production?
- What is the brand's means of production (how many collections per year? Pre-order options, tailor-made?)

Buy second hand
Another solution: buy second-hand! There are lots of clothes given away or sold, and you're sure to find some nice surprises . Some sites and applications have specialized in the subject, such as Vinted or Vestiaire Collectif. We then avoid entering the production cycle of factories and using the thousands of clothes destined to be thrown away.
Also, why not start upcycling ? Instead of throwing away a piece of clothing, you might be able to transform it into something else. For example: create a clutch from pants.
A few questions to ask yourself before buying:
- Can I buy it second hand?
- Can I upcycle it?
Here are some ways to be more aware and green in the way you buy clothes, we hope they will be useful to you! Sustainable fashion is an exciting topic that will also be covered in other articles. Stay connected.
---